Lettings and Room Hire
A great location in the heart of the Chilterns
If you're searching for a venue to hold a children's birthday party, fitness class, meeting or to put on a fabulous event in a unique location, look no further than Holy Trinity Prestwood. We have three venues available to hire offering flexible spaces, kitchen facilities, ample parking and a lovely outdoor secure play area in the beautiful grounds of our church in Prestwood. And with competitive hire rates and a friendly welcome, we're sure to be just what you're looking for.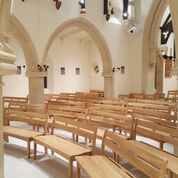 Three beautiful venues available for hire
Our church hall can be hired from £8 an hour and can accommodate up to 60 guests for parties, workshops and family gatherings
Our beautifully refurbished church is also available to hire from £14 an hour and is the perfect venue to celebrate that special occasion
Our cottage meeting room is available for £6 an hour and is ideal for smaller groups of up to 12 people

The church hall, church cottage and church are all available for private booking.
The church hall has a capacity of 60. Extensively refurbished in 2011 and redecorated in 2015, it has underfloor heating, a fully equipped kitchen, toilets (including a disabled toilet), high-speed fibre broadband, chairs, tables, the use of some cutlery and crockery and an outside play area.
Prestwood Community Preschool oocupies the church hall during weekdays in term times, but it is available for hire on Friday afternoons, the weekend and during the school holidays.
The beautifully refurbished church can also be booked for events such as seminars, workshops, away days and charitable events, as well as private functions such as dinners and receptions. It is a very flexible space—it can be cleared of furniture and opened up, or set up for lectures, dinners, etc. There is underfloor heating, high-speed fibre broadband, an integrated projector and screen, sound system, a kitchenette and a disabled toilet. You can also live-stream or record your event using our integrated A/V system.
We also have the church cottage, with a comfortable down stairs room, ideal for small meetings of up to a dozen people.

Again, there is a kitchen and toilets in the cottage.
There are also two 40-seater marquees that can be erected in the churchyard as part of your event.
There are two large private car parks, and both are illuminated at night. We are located just off the A4128 Wycombe Road. With good facilities and very competitively priced we are the ideal location for your group or event. To find out more or make a booking email our Marketing department or telephone 01494 863805.
per hour
Church
Hall
Cottage
Weekends until 6pm
Fridays and
weekends after 6pm
Voluntary and Charitable Organisations
£14
£8
£13
£6
Community Events and Public meetings
£17
£10
£15
£6
Private Hire
£20
£12
£18
£6
Large Events
£25
£15
£23
included