Weddings
First of all, congratulations on your engagement! Whether you have recently got engaged or are actively planning your special day, we're delighted that you are thinking about getting married at Holy Trinity.
This church has been serving the people of Prestwood and Great Kingshill for over 160 years. Many families have generations of members married here and for many who have moved to Prestwood, Holy Trinity has become the family church.
We believe a church wedding is the best way to begin your married life, whether or not you go to church often. The vows you will make can only be made in church. It is a special and proper place to consecrate your love, ask for God's blessing and take this important step in your life together.
We will work with you to make your day personal to you as a couple. If you have children, they can be involved too. You have plenty of choice over readings, music, flowers and all the other things that will make your wedding a unique occasion—and a true reflection of your love for each other.
We hope that our wedding brochure (downloadable at the bottom of this page) is of help as you begin planning. We look forward to celebrating your wedding day with you and send our warmest good wishes as you prepare for the day.
Wherever you are in the process, please feel free to contact the Rector by phone or email if you have any questions or concerns—we want you to enjoy the preparation almost as much as the wedding day itself, so please don't get stressed!
How It Works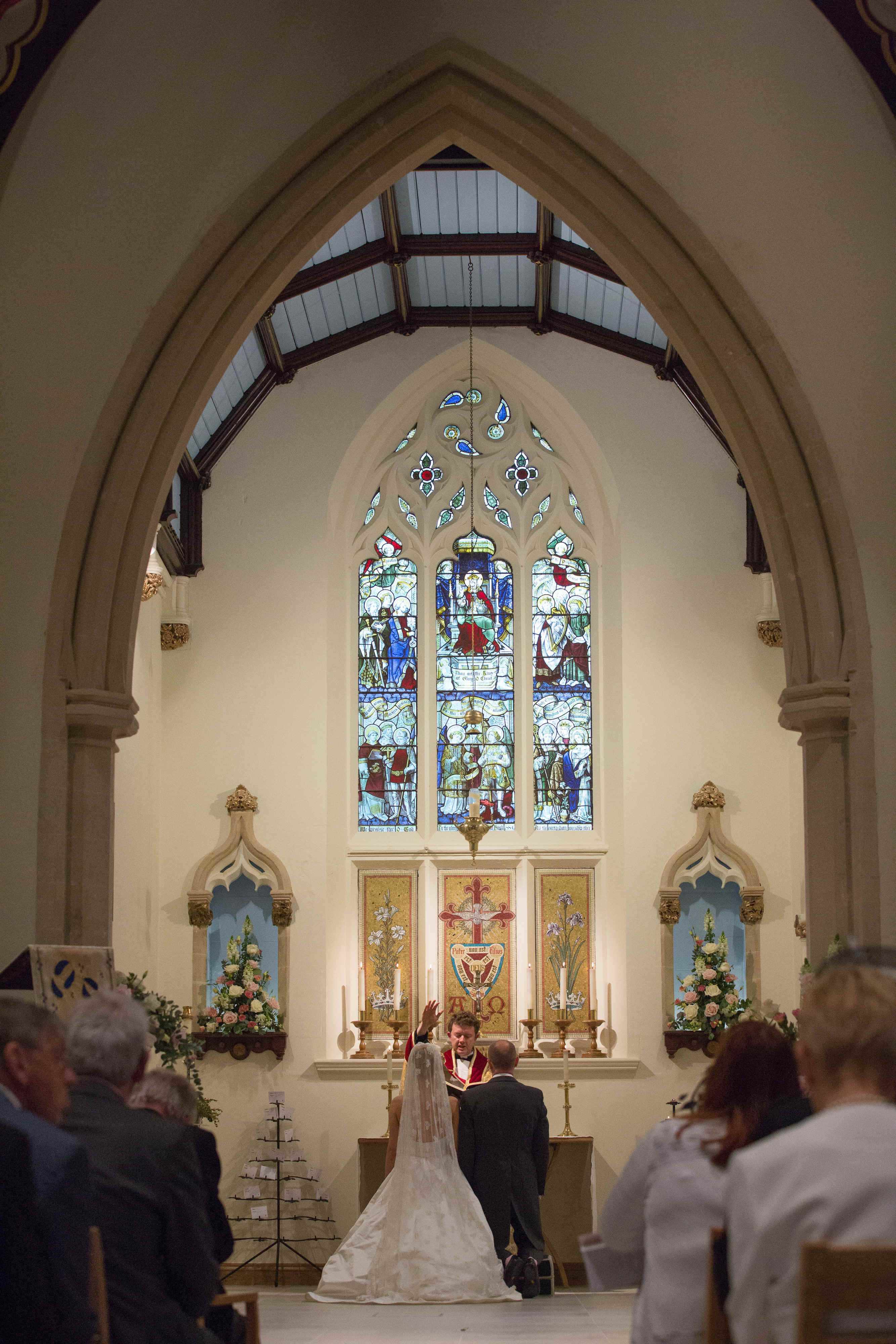 The first thing to do is to contact the Rector or the Church Secretary to find a suitable date. At this point you will need to pay a non refundable £50 deposit to secure your wedding date.
The next step will be to arrange an initial meeting with the minister who will take your wedding. We'll talk through the legal process by which couples get married in church—it is different to a civil wedding. In nearly every case, is pretty easy to arrange. We'll talk through the various costs and options that you have. By about four months before the wedding date, we should have a fair idea about the content of the service—the readings, hymns and music. After we've planned your service, we talk in more detail about what it all means and what it is all about. We focus on the vows you make to each other: these are the heart of the service. Church is the only place you can make promises this big to each other. By making these promises in church, you invite God, who is loving and caring, to help you keep them.
What about a Wedding Blessing?
Sometimes couples will have a civil ceremony followed by a wedding blessing. A wedding blessing doesn't contain any legal elements of a wedding, but it does contain all the spiritual elements of vows and rings, and is every bit a church wedding!
Things to think about
Can we involve our children?
Many people getting married will have children and want to involve them in the wedding. There are lots of different ways to do this. The main thing is to make sure everybody is comfortable and happy with what's happening. Tell the minister early on that you'd like to involve your children in the ceremony, and then you can think through the best way to do that for your wedding.
Getting married after a divorce
It has been possible for people to get married in church after a divorce for some time. If you have been divorced, tell the minister when you meet.
One of us isn't a British National. Does that change things?
It's important for you to be sure your marriage will be legally recognised in your home country, if that isn't the UK. Getting married here doesn't automatically confer any right of residency. It is generally a simple matter to work out the best route to marriage if you aren't a British National. Every case is different, so make sure you raise this with your minister at the start.
Church Building
Our church has flexible seating which can accommodate up to 150 people. For smaller weddings, we can change the seating arrangements for a more intimate feel.
Have your Reception here too!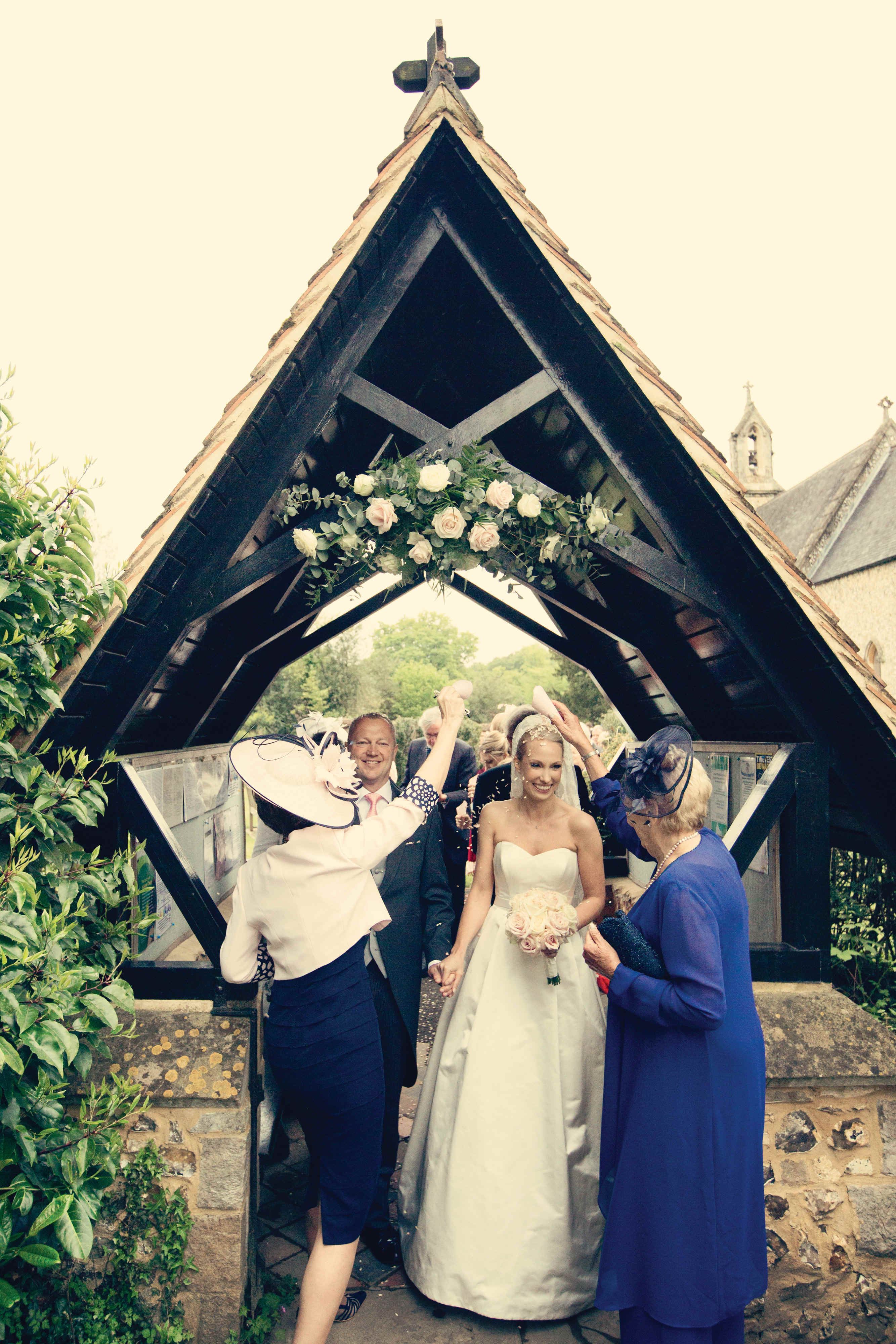 We understand that weddings can be expensive and at Holy Trinity, Prestwood, we are delighted to be able to offer a 'Wedding for a Grand' package. For £1,000, you will have use of the church for your wedding ceremony and exclusive use of our hall and churchyard for your wedding reception. All your statutory wedding fees will also be included, making this a really affordable way of having a beautiful church wedding and being able to celebrate with all your family and friends afterwards.
We can also arrange a bespoke wedding reception at the church for you. This can include the hire of our two marquees, and the use of the church as the venue for your reception or evening dinner. Look at our Venue Hire page and please ask what we can do for you!
Download our Wedding Brochure for more information.
Visit Your Church Wedding for loads of information and help!
Wedding Packages
You can also choose from these wedding packages...
Bespoke Wedding Package

Bespoke Wedding Package | Price variable For a truly unique and special wedding reception, we offer bespoke wedding packages, which include having your reception in the church. After your service, the church will be transformed and furniture rearranged to suit your requirements, whilst your guests enjoy a drinks and canapes…

Rehearsal Dinner

Rehearsal Dinner | £160 If you are keen to avoid the hassle of finding and travelling to a separate venue to have dinner or drinks after your rehearsal, we are delighted to be able to offer you the use of the church for a small additional fee. After your run-through,…